In the constantly evolving landscape of digital marketing, understanding link building strategies is vital. If you're a franchise or small business owner who wants to improve your online presence, it's important to have a strong backlink strategy.
Though it's just a small part of the SEO world, and Google is constantly updating its algorithm, backlinking has helped several businesses expand their online presence. However, not all links are created equal.
This guide will break down the difference between dofollow and nofollow links, and how each one impacts your online presence.
What Are Backlink Strategies?
Let's begin with backlink strategies. A backlink is a link from one website to another. Search engines, like Google, see these links as votes of confidence. This can affect your website's credibility and where it shows up in search results.
The Power of DoFollow Links
Now, let's dive into DoFollow links, an important aspect of SEO. These links can help boost your website's authority and trust with both your audience and search engines.
But be cautious. You should only get DoFollow links from trustworthy sources. Let's explore the benefits, potential issues, and the right way to get quality DoFollow links for your link building strategy.
What Is a DoFollow Link?
Dofollow links are valuable in the world of SEO. They allow search engines to follow them and pass on "link juice" to the linked website. In simple terms, they help boost your site's authority and visibility in search results.
How Can DoFollow Links Benefit Your Site?
Dofollow links can benefit your small business or franchise by acting as powerful endorsements from other websites. These endorsements tell search engines that your website is a credible source in your industry.
Here are a few ways they can help boost your SEO strategy:
Boosting Search Rankings
When reputable websites link to your content, it tells search engines that your site is trustworthy and relevant. This can lead to higher search engine rankings, more visibility, and more potential customers.
Increasing Organic Traffic
Higher search engine rankings lead to more organic traffic, potential customers, and brand exposure. Good DoFollow links can drive more organic traffic, which can lead to more sales.
Possible Problems with DoFollow Links
While DoFollow links are helpful, they can harm your site if they come from low-quality or spammy sources. If search engines see that your site is being backlinked from untrustworthy domains and pages it may lower your affect your rankings. It's important to monitor your backlinks and have a strong strategy in place.
When piecing together your linking building strategy, make sure you include regular backlink audits to see where your backlinks are coming from.
How to Get DoFollow Links
Getting quality DoFollow links takes a strategic approach. It's important that you use ethical SEO practices to acquire DoFollow links and avoid low-quality backlinks. Here's how you can achieve high-quality DoFollow links:
High-Quality Content
Create valuable content that other websites want to link to. This means addressing their needs, answering their questions, and providing insights that others find valuable. When your content is informative and relevant, other websites are more likely to link to it.
They see your content as a valuable resource that enhances the user experience on their own sites, making it a win-win for both parties. So, invest time and effort in crafting content that stands out and compels others to connect with your expertise.
Social Media
Using social media in your link-building strategy increases your visibility. When you share your content on platforms like Facebook, Twitter, and Instagram, it can catch a wider audience.
The more people who see and like your content, the better your chances of getting useful DoFollow links. Social media gives you the opportunity to make new connections and gain more links.
The Role of NoFollow Links
While DoFollow links are better known for their impact on search rankings, NoFollow links also play a role in impacting your link building strategy. We'll explore how NoFollow links can complement your digital marketing efforts.
What Are NoFollow Links?
NoFollow links are different from DoFollow links. They tell search engines not to pass on any "link juice" or credibility. These links are often used in user-generated content, like blog comments and forum posts.
How Can NoFollow Links Help Your Site?
NoFollow links can be helpful in different ways. Although search engines don't give them the same SEO boost as DoFollow links, strategic NoFollow links can still attract potential customers. This means they can still drive traffic to your site.
These links can also help you connect with your audience and build trust within your industry. They enhance your content's credibility and reach, creating a sense of community around your brand.
Possible Issues with NoFollow Links
Although NoFollow links are usually safe, they can harm your site if they come from spammy or irrelevant sources. It's important to keep an eye on the quality of these links to protect your site's reputation.
Choosing DoFollow and NoFollow Links for Your Site
The choice between DoFollow and NoFollow links on your website is an important piece of your SEO strategy and user experience. Implementing both link types thoughtfully ensures a harmonious balance between providing valuable information to your audience and maintaining the health of your online presence.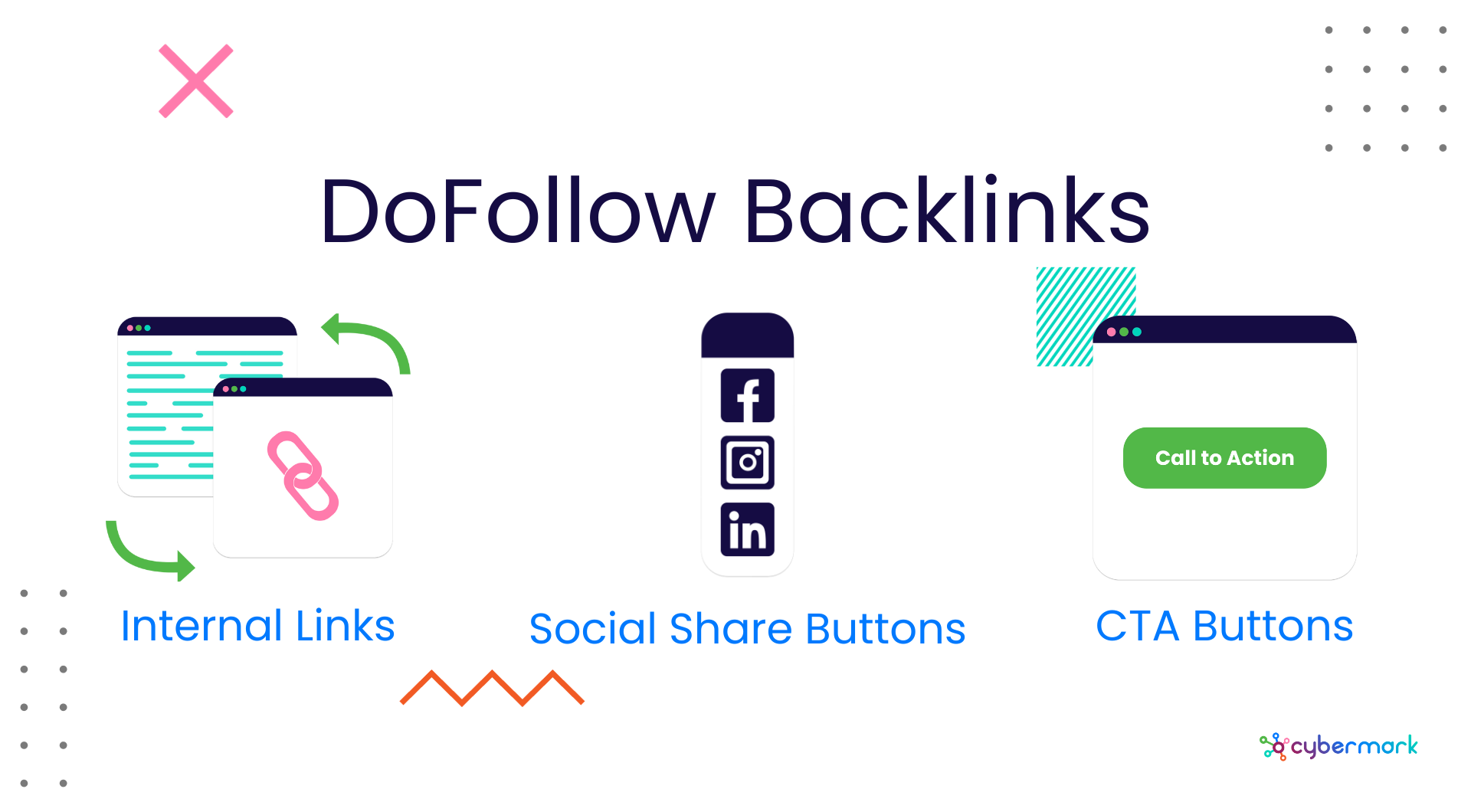 Which Links Should You Make DoFollow on Your Site?
DoFollow links are the cornerstone of your internal link structure, enhancing search engine visibility and user engagement. Here are some recommendations for determining which links on your site should be DoFollow:
Internal links within your content
Navigation menu links
Links in your footer for essential pages
Calls to action (CTAs) and buttons
Product or service links
Links within your blog posts
Links in your sidebar, if applicable
Links to key landing pages
Social media sharing buttons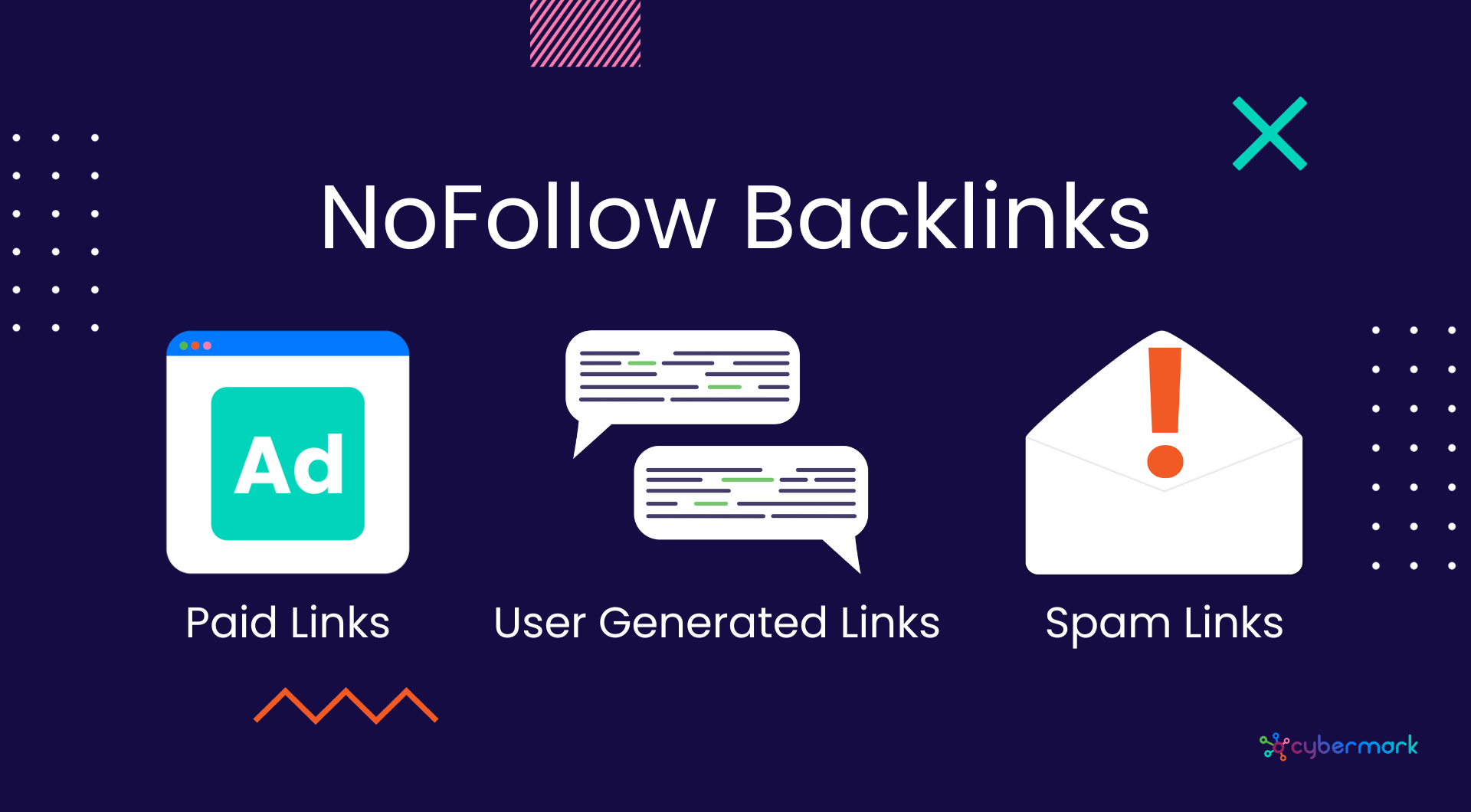 Which Links Should You Make NoFollow on Your Site?
Deciding when to designate links as NoFollow is equally important. NoFollow links can help maintain the quality and credibility of your online presence, particularly in user-generated content. To guide you in this decision, consider these suggestions for determining which links on your site should be designated as NoFollow:
User-generated content links, such as comments and forum posts
Affiliate links, when you want to clearly indicate their promotional nature
Sponsored content or paid links to adhere to search engine guidelines and maintain transparency
Low-quality or spammy links that may appear in comments or forum contributions
Links to external websites that you neither endorse nor have control over, ensuring a level of protection against potential issues on those sites.
Getting Professional SEO Help
Navigating the world of link building can be challenging, especially when you're focused on your small business or franchise. That's where CyberMark comes in.
Our experienced team has over 25 years of digital marketing expertise and offers quality SEO services tailored to your business's unique needs. We're here to assist you with your online presence, backlink strategy, and search engine rankings.
Contact us today to unlock your business's full potential through tailored SEO strategies and expert guidance. Your success is our top priority, and we're here to help you achieve your goals.