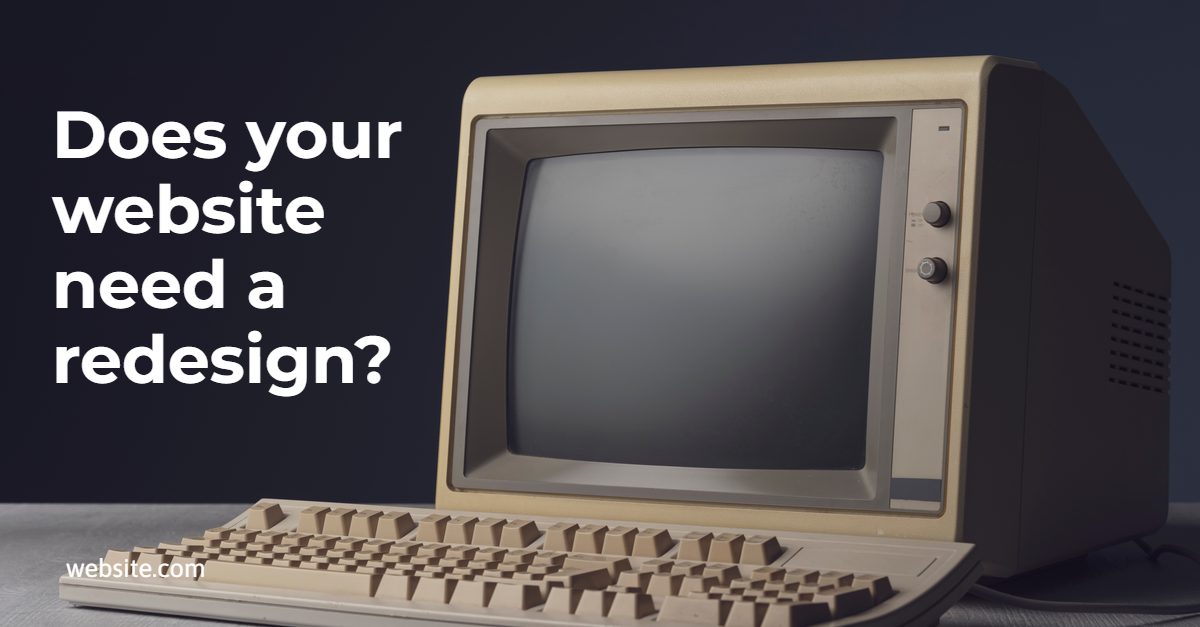 It's no secret that the internet has changed the way that people engage with their communities, especially in a post-covid world. According to a recent study, 88% of US consumers search for products and services online before making a purchase. Unlike consumers of years' past, today's shopper can learn everything about a brand before they ever pick up the phone or visit the store. Like a virtual storefront, your website should aim to do 3 things really well:
Attract new customers who are searching for products and services related to your brand
Encourage users to click and engage with your content
Generate leads who are interested in learning more about your brand
Not unlike your actual storefront, a website design ages over time. Even with proper maintenance, there comes a time when the deterioration is noticeable to your customers. You might notice it yourself. Do you need a new coat of paint? Is your sign worn out? Does the storefront look out of place or outdated compared to its neighbors or your competitors? All of these elements can make or break your success in today's competitive landscape. A website will have similar signs of wear and tear: slow load times, designs that don't show up right on different devices, outdated navigation, broken links, etc. Studies indicate that an outdated website does more than frustrate users. Zendesk found that a poor website experience actively drives 50% of users straight to a competitor, and nearly 40% of people report leaving web pages that take more than 2 seconds to load. No matter your industry or company size, your website matters. So how do you know if you need a website redesign? Take a look at your brand as a whole and answer these questions:
Does the website look like it was designed 10 years ago?
Was it actually designed 10 years ago?
Does the site load poorly or slowly on mobile? Here's why that's important
Is the site traffic lower than it was a few years ago?
Are my leads/sales reducing?
Do you have trouble finding your way around the website?
Do you have old or outdated messaging, branding or other elements on your site?
If the answer to any of these questions is "yes," then it's definitely time to add a redesign to your to-do list. Here are six benefits of redesigning your site in 2022.
Google (and people! ) look at mobile-first.
In 2022, a mobile-responsive website is no longer an option–it's mandatory. Mobile accounts for approximately half of web traffic worldwide, and over 60% of all web searches in the United States take place on a mobile device. 79% of people also say they're more likely to revisit or share a mobile site if it's easy to use. And if the evidence supporting the shift to mobile wasn't overwhelming enough, Google also updated their algorithm in 2019 to crawl and index the mobile version of websites first. When redesigning your website, think about the mobile experience first and the desktop experience second, though both should make it as easy as possible for your website to succeed.
People love a modern look and feel, and Google likes that, too.
Recent studies have shown 38% people judge a business by how the website looks at first glance. If your website has broken links or third-party apps, a bad design, or simply looks outdated, visitors may think that your business is unprofessional, scammy, or amateurish. A website that still looks like it was designed in 2012 will struggle to bring in leads just as surely as a rundown storefront will struggle against a shiny, clean competitor.
Security is critical!
In digital marketing, it's been said that one human year equals at least four internet years. Technology progresses quite quickly, and unfortunately, the ability to hack said technology increases at a fast pace as well. Not only should you update the site to run on a newer content management system in order to gain new features and editing abilities, but you should update to improve security as well. Make sure that you protect your website from security breaches and unwanted hacks. When choosing a content management system (CMS) look for the following:
Robust editing features
Quick load times
SEO-readiness
Frequent updates and support from developers
Put your best foot forward.
If your business has rebranded or if you offer new services or products than when the site was last updated, it may be time for a redesign. Rebranding your website is not just about the logo and official color scheme; your website text likely needs to be rewritten as well to conform to new SEO best practices. Don't underestimate the importance of call-to-actions on your website! Direct traffic toward what you want them to do on your website.
Get more of the results you want
Before designing your website, define the exact goal of your website. If you want more customers to call you, the website should be optimized to convince visitors to do exactly that. If you are looking to establish your website as a hub of authority within a particular niche, then you may want to design your website to encourage customer subscriptions to your blog or newsletter. If you want leads to fill out contact forms, then you need to make it easy for them to do so. What is more, you should also be able to track your website traffic to see what causes visitors to leave your website or causes them to stay.
A website redesign can seem like a large, daunting, and expensive task, and as a result, you may have delayed redesigning your older website. However, waiting to update your website may mean missing out on customers now. The good news is that it's more affordable than ever to get a really great website that works just as hard as you do to grow your business. Contact CyberMark for more information on redesigning your website and pricing.