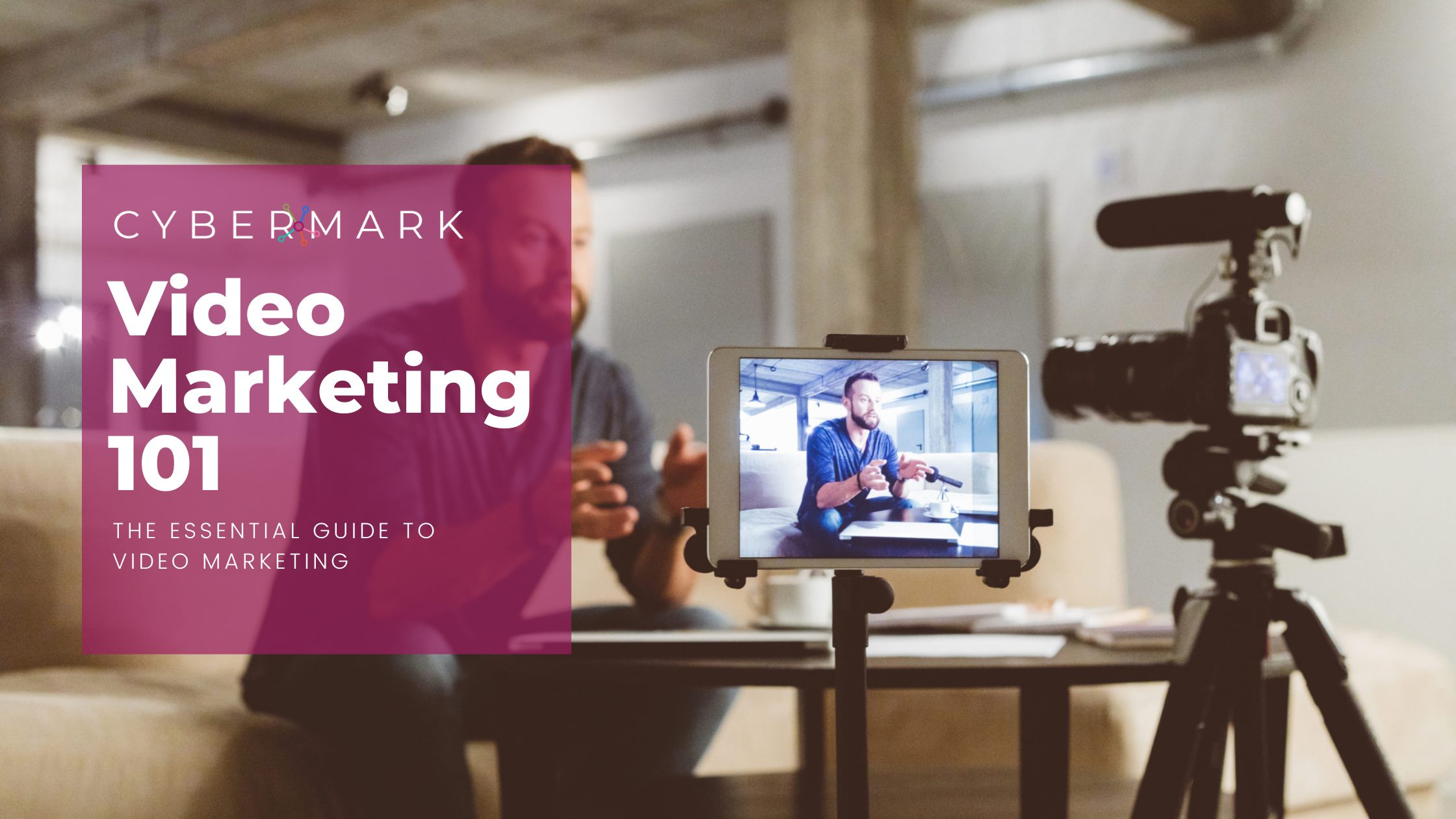 The future of marketing, advertising and storytelling is ALL about video content. From Instagram Reels and TikToks to YouTube and vlogs, people are watching more video online than ever before – in fact the amount of online video they watch has almost doubled since 2018.
Hubspot found that 78% of people watch online videos every week, while 54% watch videos every day.
Google's research shows that 6 out of 10 people would rather watch online videos than television.
YouTube states that its users view more than 1 billion hours of video each day on the platform.
Should your brand be on board with this global trend? In this post, we'll break down why you should include video in your marketing strategy, what to expect as far as costs and ROI are concerned, and what type of content you should include in a video.
Why include video in your digital marketing strategy?
In Wyzowl's recent State of Video Marketing survey, brands reported a number of reasons why they were not using video as part of their strategy in 2021.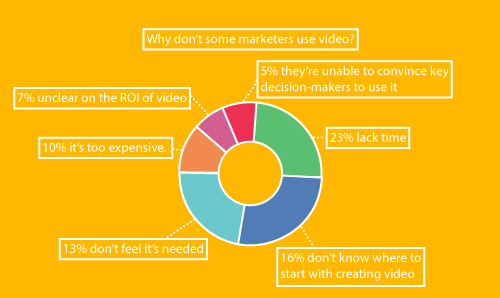 Most commonly, brands didn't feel they had time or weren't sure how to get started developing content and a strategy for video. Others didn't use video because of challenges in reporting the ROI or expenses.  However, that may change in 2022, with 79% of non-video marketers saying they expect to start using video as a marketing tool in 2022 (10% more than last year). Small businesses can see a lot of benefit from video marketing:
Increase brand awareness
Educate potential customers
Boost website traffic and engagement
Builder stronger brand affiliation and connection
Stand out from competitors
Tell the brand story
If you're considering adding video to your marketing suite, keep reading to learn more about how to get started.
Getting started with video marketing
If your brand is new to video marketing, you may need to set aside some additional resources to handle all the steps involved with managing a video campaign. Before you break out the camera, you must:
Determine your target audience
Identify your goals
Plan your budget
Choose the type of video you want to create
Decide where you will publish the video
Once all that's settled, it's time to actually write, storyboard, film, and edit your video. Then you can publish and promote the video, measure its success, and use the data to improve your next video. Note: This post focuses on considerations for getting started with video marketing, but CyberMark can help with marketing your video on YouTube and social media. Contact us for pricing and advertising plan information!
How to determine your target audience
Defining your target audience helps you understand who you're talking to and what they're interested in. But how do you find your target audience? You can start by identifying the demographics of your most valuable customers today. What are they interested in? What problem does your product solve for them? What type of content do they engage with now? How would they prefer to interact with your content? What do you want to show them? Answering these questions will help you determine which type of video to create, where to post it, and what to expect from it.
How to set goals for video marketing
For video, success is generally measured by the engagement the video gets: from clicks and views to likes and shares. We discuss the digital KPIs to measure later in this article, but to start, keep it simple: what do you hope to gain from a video? In some cases, you may have a different objective depending on who your audience is. For example, the success of how-to and support videos may be evident by a reduction in support tickets or a faster resolution time, while a webinar's success may be gauged by sign-up and attendance rates. When determining the type of video to create, consider your objectives and what success looks like for you. Keep in mind, however, that quantifying the exact ROI of any top-of-funnel marketing strategy like video is challenging. Video should be a piece of your overall strategy, not your sole strategy.
What should you expect to spend on video marketing?
Video production can seem expensive, but tons of DIY creation tools and video production agencies have sprung up in the last few years to help ease costs. In 2021, 40% of video marketers surveyed reported spending up to $500 on the average video, with 20% reportedly spending between $500-$1k and 29% spending between $1K and $5K.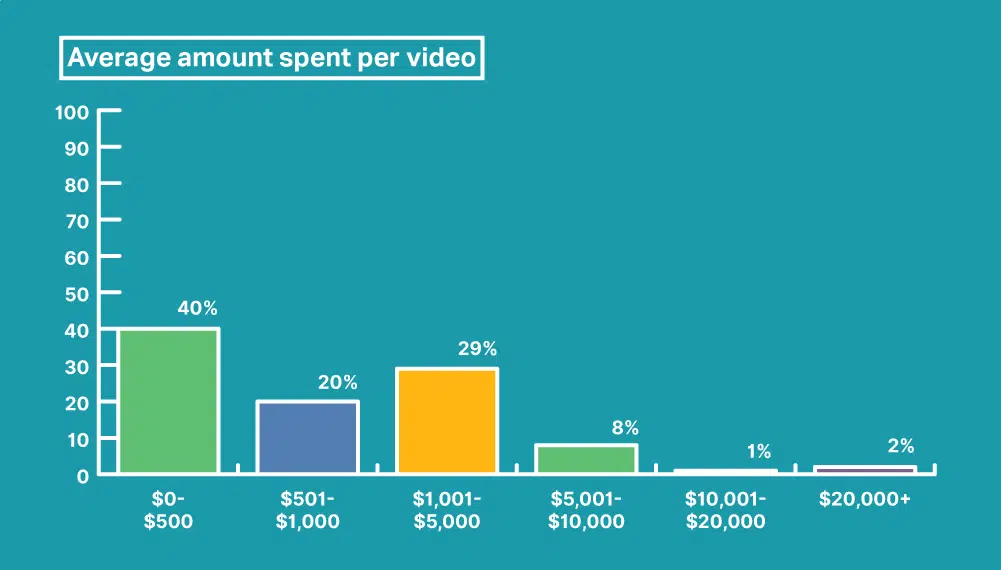 Furthermore, 55% of those surveyed reported that they created all videos in-house, while only 12% exclusively outsourced. The remaining 32% reported using a mix of in-house and outsourced video production services.
The low average costs combined with predominantly in-house video creation suggests that many marketers are using quick, scalable video tools to quickly create content, while others that outsource are likely paying a higher rate. On top of production costs, if you're planning to promote the video across social media, YouTube, etc., you should also factor in media spend. How much you should spend on video production ultimately comes down to what you're trying to achieve.
How to determine which type of video to create
It depends on a lot of different factors, including your industry, objective, product/service, budget, etc. The first step of your first video campaign, like any marketing campaign, is to decide on your goals and targets. Why are you making your campaign and how will you measure success? Without getting too deep into theory, the best way to define the purpose of your video marketing is to define its place in the marketing funnel.
Awareness – Top of the Funnel
The first step in the marketing funnel is awareness. This is about introducing your brand to new people, which is particularly good if you have a high-value product/service or if you are a new or small business. Awareness videos can also be useful for growing your audience. If you're making an awareness video, then you'll want to set targets that are related to the discovery of your brand, not sales. Things like total views, 3-second views, and view duration are great markers of success.
Consideration – Middle of the Funnel
The next step in the marketing funnel is consideration. This type of content should help prove you're an expert in your field. Consideration content can be particularly useful for growing your subscriber count on YouTube and your followers on other channels. When making consideration videos, the most important metric is click-through rate, followed by view length. Click-through rate shows you how many people were engaged enough to make the jump from your video to your website or other content. As a secondary metric, view length helps validate the level of engagement of your viewers.
Conversion – Bottom of the (Sales) Funnel
If you want to generate leads for a product or service, or even get online sales, you should optimize your video for conversions. Keep in mind, however, that strategies for this stage of the funnel can't function very well on their own. If your conversion video is the first thing a potential customer sees from you, the chances that they will convert are slim. For your conversion videos, the most important metric is leads or sales, obviously. The other important metric to keep an eye on is click-through rate. If people are clicking and not buying, then you may have a disconnect between your marketing and your actual product.
Video Content Ideas
We've put together a few ideas for how you can use video to connect with customers in a previous blog, but honestly, the best thing you can do is put yourself in your customers' shoes. What kind of content do your customers engage with? What do they want to learn about? How do they engage with your type of content? For B2B industries, webinars and case studies may work better than commercials and video shorts. For B2C industries, you may want to invest in product demonstration videos or commercials instead of testimonials and how-tos. In 2022, short video content is king: we recommend 5-15 seconds for most marketing videos, but that may vary depending on your objective. A how-to video might work best at 5 minutes, while a testimonial video loses traction at 30 seconds. A product demo may require a longer runtime, while a social media ad is short and sweet. Regardless of length, a video should attract, engage and inspire your target audience.
Additional video marketing resources:
Where to publish the video
There are a lot of places you can post video content, but it's best to choose platforms based on your objective and your customers' habits. The most common place to post videos is YouTube, followed by social media, according to Wyzowl's 2021 survey.
If your goal is brand awareness, YouTube is a great place to start. If your goal is engagement, you might want to consider TikTok or Instagram. And if you want to host the video on your website, Wistia has advanced SEO capabilities to help search engines understand your page and video better. To determine the best place to host your videos, we recommend starting by analyzing your customers and the content you intend to produce and developing content around that. After all, what better way to find more customers than by starting where your current customers spend time?
Whether your business sells food or flowers, video marketing can help you grow your audience and boost sales. Video keeps viewers engaged, and your message is less likely to be ignored than with other forms of marketing. And, thanks to the growing popularity of mobile devices, watching videos can happen anywhere at any time. Keep in mind that over 500 hours of video content is added to YouTube every minute. And YouTube is just one of several dozen places people go to watch video online. No matter how well optimized your video is, it simply cannot compete organically against all that content. Additionally, search engines like Google are constantly changing their algorithms, video is evolving at a lightning-speed pace, and relying on search bots to rank your videos is not a consistent strategy to guarantee eyes on your videos. If you're looking to add video to your marketing strategy in 2022, we recommend a combination of paid strategies (Google/YouTube ads, Facebook/Instagram/TikTok/SnapChat ads), SEO, and additional strategies like influencer marketing. 
If you need help promoting your video, Contact CyberMark for more information on our advertising program.